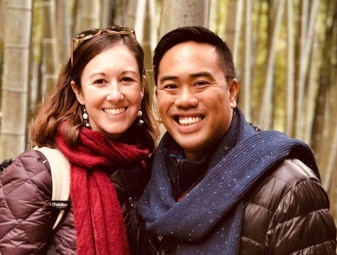 We are Adam and Tricia and we are excited to be adopting and bringing a child into our family! Thank you for taking the time to learn about us. We fill our home with laughter and fun, creativity, music and books, and lots of love and support. Sharing the experience of raising a child would bring such fulfillment to our lives
HOW WE MET
We met through our church in 2014 and became good friends before dating and eventually getting married. We bonded through our love for serving in our community on home repair projects like Habitat for Humanity and serving with the children and youth at our church. We were both raised in the Christian faith tradition with an appreciation for all religions and faith practices.
Tricia is from Lubbock, Texas, and we visit often to see her family. Adam was raised in Los Angeles and his family continues to live in the same area, just a short drive from where we live now. We both come from large families that are close and like to get together often, especially for birthdays and holidays, and always with great food! Both of our family's value lives filled with compassion, integrity, honesty, respect, healthy communication, and kindness for all.
OUR LIFE TOGETHER
We live in a 2-story home with four bedrooms in a family-friendly neighborhood in Santa Monica, CA. Our big backyard, the beautiful trees and a nearby park are our favorite things about where we live. We also enjoy riding our bikes to the beach (about 2 miles away!). Our community offers wonderful schools, libraries, farmer's markets, a children's museum, and plenty of activities for kids. When we're not working or at church, we love to hike, watch movies, explore the sights of Los Angeles, go to Disneyland, and spend time with family and our small dog, Teddy.
Adam works as a Computer & Network Engineer for the Department of Defense on Navy & Coast Guard Ships. When he isn't working, Adam enjoys listening to music and podcasts, playing his guitar and piano, and helping people repair their computers and phones when they break. Tricia works at our church as a Pastoral Associate for Family Ministries. Tricia finds her work rewarding because she gets to be part of a community that cares for one another, helping people to grow, learn, and serve others. When she isn't working, she loves to read books, spend time outdoors, and hang out with friends.
Our child will be raised in a happy, loving, and safe environment with endless love and support for who they are. Thank you again for taking the time to get to know us!
With love, Tricia and Adam
View our album