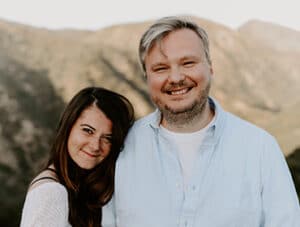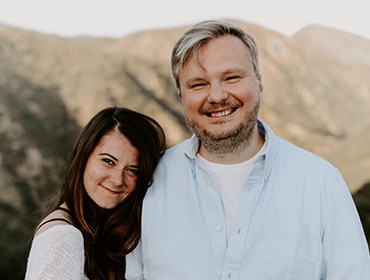 Thank you for taking the time to read our story.
Family and love have always been the most important things to both of us, and we would be beyond happy to expand our family and welcome a child into our lives. We have been together for over 8 years; coming from big and happy families, we couldn't wait to have a baby of our own. Unfortunately, we haven't been successful taking the usual approach.
Making the decision that adoption is the right thing to do, we are so excited to be able to share love not only from us but from both of our families. We are delighted and humbled to be a part of this process, and believe that adoption is about being open, showing mutual respect, and endless love.
About us
Marianne was born in California to the family of Czech immigrants but grew up in the Czech Republic after moving back as a two-year-old. Thanks to this, she has dual citizenship which has opened up amazing opportunities for travel and work.
Petr was born and raised to loving parents in a small town in the Czech Republic, and grew up in a family of 6 (2 sisters and one younger brother).
We always believed in love at first sight, and that's exactly what happened to us. We met at university where Marianne organized a youth group for religious students. We both jumped head first into the relationship and things just started to happen fast, but it felt so natural and right. Moving in together took one month, Petr proposed after five, and the wedding happened 10 months after our first kiss.
Shortly after the wedding, we bought a house; Petr was doing renovations while Marianne was finishing university. We were ready and looking forward to leading a simple, family life in the Czech Republic. However, as fate would have it, we received a job offer in 2016 and made the decision to move across the world in a heartbeat.
We have been married for seven years now, and as both life and business partners, have been together 24/7 for eight years. Together we own a business. For four years we ran our business from an RV that we drove across the country for half of every year, spending the other half back in the Czech Republic! These were by far the most hectic years of our lives, but we learned so much about each other and about building a strong relationship that can get through any hardship that's thrown our way.
Every year for a couple weeks we are spending Christmas and summer together with our beloved families back in the Czech Republic. In return we are always ready to welcome them at our home in California, where a guest room is a very important part of the house.
Now that we have a home-base for our business, we work flexible hours mostly from our "office" a.k.a. work room. Our plan is that Marianne will become a stay-at-home mom, and in addition, Marianne's sister just recently moved next door and is ready to devote her time to becoming the best auntie to our future child.
As you can see, traveling is a vital part of our life and we would like to show the world to our child as well. With two homes – one in California and one in the Czech Republic – we are so excited to show both continents, cultures, nature and traditions to our future little one.
Our home and town where we live
We live in a newly built two-story house not far from downtown Ventura. Our home is open and spacious, built in a modern European style. Our favorite feature is definitely kitchen island, where Petr sits and simultaneously supervises Marianne cooking dinner while typing away on his work laptop. You can always smell a fresh home cooked meal in progress, and Petr's favorite coffee brewing.
Not far from the house is a kids playground located in a community park, and you can easily walk from our house to downtown Ventura, the beach, and the pier. We love to spend weekends and warm evenings exploring our neighborhood; Ventura is a beautiful seaside community that seems to have been almost created for raising a family.
Coming from big families, whenever we are visiting home in the Czech Republic there are plenty of seats at every table. We love to sit around for hours and talk, laugh, and connect with our closest loved ones. Just like they were wonderful parents to us, they continue to be the best grandparents anyone could ask for.
All of our siblings know that they can trust our parents and they will support us through anything, and they are always the first people we call to share good news, ask for help, and just when we need a kind voice.
We absolutely love being aunt and uncle to all of our beloved nieces and nephews, especially getting to spoil them as much as we want. We have three of each; nieces Dorothy, Isabella and Johanna, and nephews Timothy, Krystof and Samuel. We cherish every minute with them and are endlessly.
Our hobbies
We absolutely love to travel and explore new places. Since we're lucky enough to live by the ocean, one of our favorite after-work activities is zipping along the boardwalk on our electric scooters – such a great way to relax after a stressful day! We love renting kayaks and exploring the various ocean side canals in Ventura. When it's too cold for the beach, there's nothing better than a delicious home-cooked meal and cozying up with some board games.
We love to spend our free time socializing and hosting our friends at home, but we won't say no to adventuring with them too! Enjoying the great outdoors together is overall our favorite thing to do, whether it's adventures to new far away places or just enjoying a sunny walk to our favorite local cafe. But home is where the heart is, and we always look forward to ending the day in our warm and cozy home, curled up on the couch with a good movie, hands wrist-deep in a huge bowl of popcorn.
Thank you, from the bottom of our hearts, for taking the time to read through our letter and learning a little bit about who we are. We understand this may be an extremely difficult choice for you, and appreciate that it's hard to make a decision based on what we've tried our best to describe. In our hearts we know that everything will work out in the end; both for us and for you.
Please know that we have always planned to discuss the adoption with the child openly and honestly, answering all their questions and taking the time to ensure they understand it was done from a place of love, and ultimately your decision to give them the best possible life and home. Our goal is to provide not just an upbringing and education, but to show them the world and everything it has to offer. But above all, we can't wait to give them all our never ending love, the safety and comfort of a cozy home, and a big family to call their own. Thank you for considering us in your decision. We look forward to connecting further to answer any questions you might have.
View our album