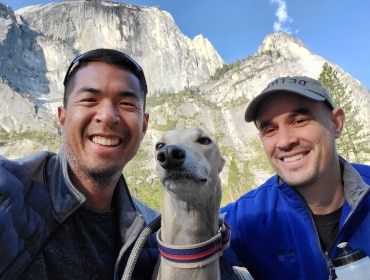 Thank you for taking the time to read our profile! We hope this brief narrative will help you learn about who we are and the family that we hope to build.
OUR STORY

We met while living  in China. John (from Australia) moved to Beijing in 2014 to study the Chinese language and  work as a Landscape Architect. Joe (from US) was living in Shanghai and working as an Engineer. China is a big and wonderful country, but despite the millions of people, life can get lonely.
We met the 'modern' way on a dating app and messaged each other for about a month before meeting in person. After our first date, we continued catching up almost every week. One of us would catch the bullet train to Beijing or the other to  Shanghai. We explored both cities together and even traveled to a remote countryside town to run a half-marathon (where John happened to be the tallest person in the entire race of 5,000+ runners). Joe moved back to California in January 2015, and John stayed a bit longer in China before returning to Melbourne, Australia.
Although separated by the Pacific, we kept our communication almost daily during all of 2015, John staying up past 10pm, and Joe getting up at 5am every day so we could catch up day to day life, and stay connected. went. That year we arranged trips to London and New York, and Joe came over to Australia for Christmas with John's family. It was not easy, but we made it work. In 2016, John moved to California to be with Joe.
On December 31, 2018, we were married in Australia with friends and family traveling from different parts of the US and Australia to celebrate our union. Our two families shared Christmas together before celebrating our wedding on New Years Eve. It was a very happy day for us, and we have been blessed to have a supportive family and wonderful friends.
Joe works in the family manufacturing business, making parts for machines and aerospace customers. John is a Landscape Architect focused mostly on university campuses and elementary schools throughout California. Joe loves photography and tinkering around the house (mostly fixing what he broke) and running marathons. John is the cook, sings in a choir and is a triathlete – currently training for an Iron Man.
We live in Long Beach, CA – in the house we own near the beach with our Greyhound, Strawberry. Our weekends are spent working on the house, catching up with friends and family or camping in the mountains. We are so excited to grow our family and to share our lives with children that will grow up in large loving families both in America and in Australia.
JOHN (BY JOE)

John is a caring, loving, passionate, and sometimes stubborn person. He is goal-oriented and resilient. He is a constant seeker of knowledge. He loves to play games with his nieces and nephews and has a tremendous amount of patience. John has a constant itch for adventure but is grounded in his love for family. He fights for equality and always accepts people for who they are.
JOE (BY JOHN)

Joe is thoughtful, kind, loyal, and occasionally  goofy. He is a loving and calming force for those who know him. Joe never forgets that a smile can solve a lot of problems, and that life should be enjoyed. He is a hard-working business owner, entrepreneur, inventor and loving companion.
FRIENDS AND FAMILY

Friends and family are a bedrock for both of us, and really at the core of who we are. Joe has a smaller immediate family, but a very large extended family, with close relatives in Thailand, the Philippines and the US. John has a large immediate family, with three sisters and lots of cousins who mostly live in Melbourne, Australia.
We often see Joe's nieces and nephews, and they usually like to climb up on John because he is so tall. They often play pranks on Joe because they know that he is a sucker for jokes and loves to laugh. When we visit Australia, John loves spending time with all of his nieces and nephews. He is often found playing Legos or trains with his nieces and nephews.
Thanksgiving and Christmas are the big holidays in our families. There is always the perfect mix of food, family and chaos with loads of cousins and kids running around. We are both lucky to have families that support us for who we are and celebrate differences and diversity.
ADVENTURE.
Travel and adventure have always been a part of our relationship – it is what brought us together and what we both enjoy. While both living in China, we planned many weekend trips within China and throughout Asia. More recently, we had trips to Central America, South America and Europe. Even throughout the pandemic, John organized many camping trips. We often camp with friends or family, go hiking, play board games and swim. These adventures, though short in time, give us time to learn new things, explore the world around us, and most importantly to spend time together outside of our hectic lives.
Wishing you the very best,
Joe and John
View our album