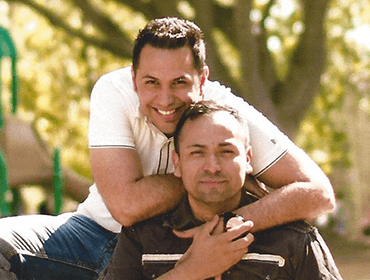 DEAR BIRTH PARENTS
Thank you for taking the time to look through our profile and potentially consider us as adoptive parents. We can only imagine how you must be feeling at this moment and although our paths are taking different courses please understand how courageous we believe you truly are. We want you to know that your bravery honors us.
ABOUT US
We have been together since first meeting at our neighborhood Starbucks back in 2011. We had an instant connection that has allowed us to share many personal stories, about our past present and our future. Together, we create such a strong bond that has taken us through many life events, and has allowed us to be great Dads to our lovely daughter. We come from a blended family with roots planted all over the world and beyond. We would love to share all the cultures and traditions that make up our family and provide your child with those wonderful experiences that make us who we are, and the family that we will become.
Although, we have our mutual hobbies like going to the movies, dining out at our favorite neighborhood restaurants, and traveling to new destinations, we both have our own interest. You can find Arash, putting together jigsaw puzzles, gardening, or playing with our 3 dogs. As for myself, you will often find me in the kitchen cooking with new recipes, or baking cakes or cookies.
We want to share with you that in 2018, we were blessed with our lovely daughter who has changed our lives completely. She has made us realize that life is all about family, love and giving. With that said we would love to give our daughter the opportunity to be a loving and caring sister to your child. We know that, their bonds will be unbreakable, and connected forever as family.
MEET ARASH
He graduated from California State University Northridge in 2016, with a bachelor's degree in accounting. However in 2018, he left his job, in the billing department for a private lab in the city of Van Nuys, to work from home and more importantly to be a fulltime stay at home Dad to our lovely daughter. He is a genuine person, who is always happy, laughing and looking at all the good that life has to offer. He is someone that will always make you feel special and make you laugh by telling funny jokes. In addition he has a passion for animals and volunteers at one of the local animal shelters. He feels that, since animals don't have a voice he needs to be theirs.
MEET JESSE
He completed his Doctorate in nursing in 2019, and for the past 14 years he has been working as a Nurse Manager/Nursing Director at one of the local Hospital in LA. He is funny, charismatic person that is always looking to help others. He loves unconditionally and is always there to support. He pretends to be a chef on a cooking show, and explains every single step of the cooking process loudly, just so you know he's very creative with the meals he cooks for the family. He also loves animals, his dream is to get a bigger house with a very big back yard, so that he can have chickens, ducks, and grow his own fruits and vegetables.
OUR HOME
We have been living in the city of Woodland Hills for about 8 years now. Our house is perfectly located walking distance to the park, and a 15 minute drive to the beach. Currently we have 3 dogs, a talking African grey parrot, and two aquariums, making it a fun experience on any given day. We are offering our home to your child, so that they can start experiencing these memories that will last a lifetime to them.
OUR FAMILY
Jesse comes from a large family where annual reunions are a must. He feels that family togetherness is the key to happiness and good health. We celebrate every holidays, birthdays, and accomplishments with lots of food and music. My partner Arash, also comes from a large family. His family live very close to us and are also very supportive with our adoption journey. We are your traditional family with values that have been passed on from generation to generation that we will pass on to our children.
OUR THOUGHTS ON PARENTING
Both of us have wanted children since we were very young. This was actually the first discussion that we actually had on our first date at Starbucks. After successfully adopting our lovely daughter, we decided that we wanted to expand our family with the addition of another child.
Thank You,
Jesse & Arash
View our album