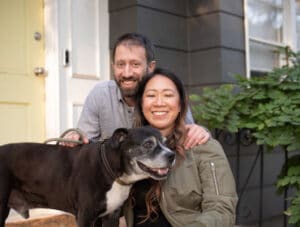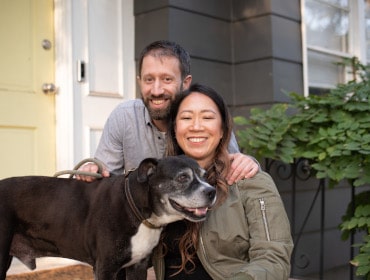 Hi!
Thank you for taking the time to get to know us and considering us to raise and love your child.
About Us
We have been together since we met in law school 13 years ago and have been married for 7. We genuinely enjoy spending time with each other and love to make each other laugh. Despite growing up on different coasts and coming from different cultural backgrounds, we share a lot of the same interests and agree on the important things. We both share a love of music, good food, reading and traveling around the world. We both believe in the importance of doing our best to give a child the love and tools he or she needs to accomplish whatever they want to accomplish in life, while also teaching him or her to be an overall good human being. We are unable to have biological children, but are excited for the opportunity to adopt and grow our family as we have always envisioned raising a child together.
About Stephanie (by Ben)
Stephanie grew up near Pasadena, California in a large boisterous family. Stephanie's childhood was filled with music, dance lessons, sports and a strong focus on education. Stephanie has two brothers and a younger sister who she is very close with (despite the 13 year age gap). As the oldest of four kids, Stephanie has always been outgoing, with a thoughtful, warm, and nurturing personality, and great with kids.
Stephanie's parents, who are both retired, still live nearby and we see them often. During Christmas, we spend laughter filled evenings with Stephanie's immediate and extended family, presents, and more food than all of us can ever eat!
Stephanie attended the University of Southern California for undergrad and Loyola Marymount University for law school, which is where she met me. She is a practicing lawyer and a partner at a real estate law firm. To relax, Stephanie loves to engage her creative side by cooking elaborate meals like lasagna from scratch, arranging flowers, and baking pastries, cookies, and cakes for friends and family.
About Ben (by Stephanie)
Ben grew up in Maryland in a blended family made up of his mom, dad, stepmother, older sister and older step sister. Ben grew up with an appreciation for art, sports and education – both of his sisters have post graduate degrees and Ben comes from a long line of lawyers. Although they live on the east coast, Ben calls his parents nearly every weekend and they visit us in California. We also spend every Thanksgiving on the east coast with Ben's immediate and extended family where we cozy up by the fireplace, play games, and enjoy the fall foliage by Ben's parents' lakefront home in New Hampshire.
Ben is a former music producer now lawyer who works in litigation. In his free time, Ben loves to spend time outdoors gardening, going on nature walks with our dog, Dominic, and film photography. Ben has always been really dependable and creative, with a great sense of humor and a fun playful energy that kids love.
Our Home
We live in a two-bedroom house nestled in a quiet, nature-filled neighborhood in the hills of Pasadena, California. Our neighbors and their kids often meet for impromptu play dates in the street. Our traditional-style house is bright and filled with green plants. We love to spend time and entertain in our sunny and lush backyard that has both grass and a large deck for outdoor barbecues and relaxing. Our dog, Dominic, especially loves running around on the grass, lazily sleeping in the sun, and bounding up the hill to greet our friendly neighbors, their kids and other dogs. There are kid-friendly parks and nature areas for hiking nearby, but it is nearly just as nice to simply walk around our neighborhood.
View our album