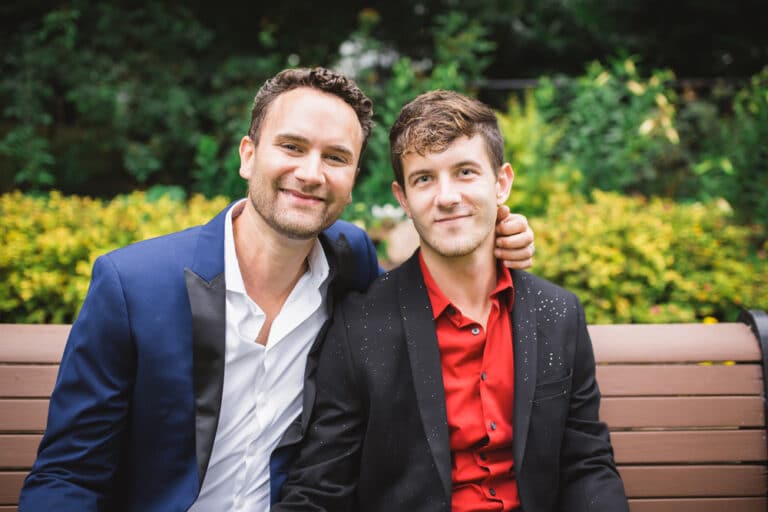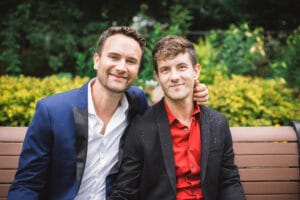 We understand how difficult of a decision it must be to choose a family.  We hope that by writing you this letter, it will help make your decision a little bit easier.
The both of us go by Alex, which can be confusing (more for us), and hopefully also memorable at the same time.
Alex E., is 43 years old, a San Francisco Bay Area native, born in Berkeley, and grew up in Walnut Creek, California. He graduated from UC Davis, and in 2012 founded Teak Me Home furniture where he is the owner and lead furniture designer. His parents Paul and Chere have been married for 51 years (!!), and reside in the same childhood home he grew up in.  His sister Elysia is three years younger, has been married for 10 years, and has three children (whom we both love being uncles to).  His side of the family all live within 30 minutes of each other, and try to see each other as much as possible.
Alex B., is 28 years old, from a small rural town in northwest Georgia called Cedartown. This is where his mother Amy, younger brother Evan, and grandparents live. His father Chris, along with many other family members, live in Atlanta. In 2016 he took a leap of faith and moved to the San Francisco Bay Area to further his career as an Anesthesiology assistant.
A few months after Alex B. moved, he met Alex E. at a restaurant in downtown Oakland. They instantly fell in love, and have been inseparable ever since. It was on a trip to Italy, in 2018, Alex E. proposed to Alex B. It was such a surprise, but all along Alex E. had been talking to Alex B.'s family and they knew all along. On May 18, 2019 in Paso Robles, California, we said "I do" and were married surrounded by our family and friends. We are truly blessed to have such awesome support systems behind the both of us.
Our childhoods were filled so much joy, happiness, and adventure. We want to give our children the same healthy, happy childhoods that we had, and look forward to new experiences as a family.
Both of our parents are very eager to have a grandbaby! For Alex B.'s parents, this will be their first grandbaby, and they are beyond ready to spoil and give all of their love.
We are deeply honored, and very appreciative you would consider us to be the parents of your child.  Together we have so much to offer, and would love to start the journey of adoption with you.
If you have any questions, feel free to call us anytime at (510) 725-7258.
Respectfully,
Alex Elsinga & Alex Byers
View our album